Conceptual Portraiture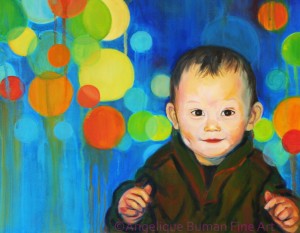 The Story Behind My Portrait Paintings
Drawing or painting the figure has always been a passion of mine, because every face is unique and there are countless expressions to capture. That said, there endless stories to be told within a simple expression and this idea has captured my attention for years. After going through many art phases, I found that simplifying my portraits of people with less props and distractions would help me to offer an immediate connection to my viewers. While I tend to find my own connections to my art, I also want you, the viewer, to be pulled into your own story that might reflect on a whimsical memory.
In the portraits that I paint, I am determined to capture a person's character through expression as well as the overall mood of the painting. While my commissioned portraits are meant to illustrate the essence of a loved one's personality, I naturally leave elements in my portraits to draw outsiders in. By leaving the doors open for curiosity through the mood of a backdrop, I hope that one might reconnect with a special memory or a particular feeling that may have been stored away for a long time. I've never been good at remembering the details on a particular day when it comes to what someone was wearing or what flowers were on the table, but rather, the lighting. The lighting of a memory is often what I remember best as it sets an overall mood for the occasion. I am certain that I tend to exaggerate the lighting of my fondest memories as it pours out in my paintings in a variety of colours.  There is just something magical or peaceful about twinkle lights, street lights on a rainy day, and amusement park lights at night that many of us can reflect on.  While I create flat backdrops that may come off as surreal or dreamlike at times, I have it set in my mind that some of our most priceless memories can seem enchanting, magical, and even surreal sometimes.  Pablo Picasso said it best:  "Art is a lie that makes you realize the truth."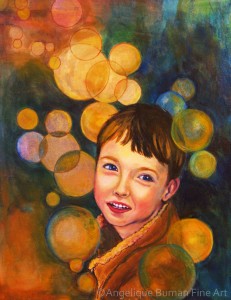 Technique & Medium:
I begin my backdrops using acrylic paint on canvas, and once it has dried, I build up the images with oil colors and mixed medium, such as Galkyd to establish a glossy glow.
If you are interested in custom conceptual portraiture, please consider that the waiting period could range from one to four months, depending on the time of year.  I will be able to give you a specific due date once you contact me.
To see my most recent portrait paintings, visit my child portraiture gallery.  
~Angelique Bowman