Fashion Illustration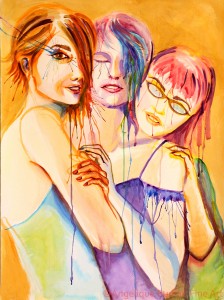 My Fashion Illustrations
While painting the figure continues to keep my interest,  I find that my take on fashion illustration is a liberating outlet.   My technique allows for progressive movement with fast and bold strokes, creating layers of energy.  My illustrations are meant to be bold and powerful, thus most of my figures tend to show confidence, strength, and empowerment.  While I realize that not everyone will agree that my figures as true fashion illustration which is often based on particular products or clothing, I strive to make my figures just as fashionable and breathtaking through movement, expression, and color.
When I first began painting figures in watercolor, I was not calling this artwork "fashion illustration," because I was more interested in emphasizing a mood, not a fashion.  I have never considered myself a fashion designer by any means nor has my art ever represented a line of clothing.  However, the more I began exploring this style, the more I found myself studying fashion illustration.  I quickly recognized that there are so many beautiful figure drawings and paintings in fashion illustration and I have grown a new love for the simple yet bold figures created by many other fashion illustrators. There is a similar sense of confidence that I am trying to convey in my figures, and while clothing is not typically the focus, I focus on expressions, brush strokes, and design to capture the viewers attention.  As far as I'm concerned, the way that we carry ourselves physically can speak just as loud as the next new fad.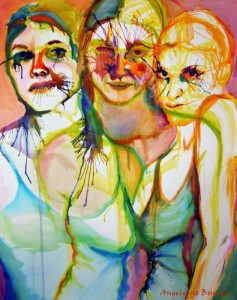 Technique & Medium: These illustrations are painted in watercolor, taking several sessions to allow colors to be layered and intensified.  I use a drip technique by focusing on the direction of the "splash" in order to create extensions to brush strokes.
To see more of my fashion illustrations, visit my gallery.